L&T Switchgear Tripbox Plus VTPN DB for MCB Double Door Description
Features and Details:
As per IS 8623
Ready to use DBs complete with colour-coded wire set, 100A insulated bus bar, Neutral bar/s with shroud/s. Earth bar/s, cement spill protector, cable ties, blanking plates and circuit indentification label
With provision for 4 Pole (FP) MCB/Isolator/RCCB/RCBO as incomer and 1 Pole (SP)/ 3 Pole (TP) MCBs as outgoings
All Enclosures and Distribution Boards comes without MCBs or MCCBs. They are sold separately.
DISTRIBUTION BOX 101 (what is a distribution board and what is it used for?)
According to Wikipedia, A distribution board is a component of an electricity supply system that divides an electrical power feed into subsidiary circuits, while providing a protective fuse or circuit breaker for each circuit in a common enclosure. Don't let these complex terms scare you! Let's take a step back and try to figure it out.
Simply put, a distribution board (DB) distributes the electrical supply to different points around the house such as lights and plugs. The main electrical supply may come directly from the supply company or maybe from another distribution board. The distribution board then distributes the supply to secondary circuits which are nothing but plug points around the house or lights and fans. A DB also has contact breakers that help prevent damage caused by an overload of electricity and an earth leakage unit which helps in preventing shock.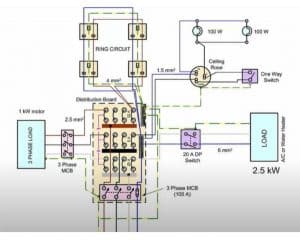 This picture shows how a distribution board is connected to different circuits in a house.
A distribution board is not just a fancy arrangement of wires going everywhere. The electrical supply actually contains many different wires which are redirected by the DB to circuits in the house depending on what the circuit is being used for. For example, lights and fans would be connected to a different line than an AC or plugs. So, maintaining the proper distribution of power is essential for the safety of your appliances and home.
There are many types of distribution boards these days. You may find a single door DB box for more simplistic usage and a double door DB being used commercially. They can be surface mounted, flush mounted or floor standing; with closing doors or see-through plastic covers or doors and in different sizes which are determined by the number of circuits rewired within the board to which some manufacturers refer to as modules and others as "way" e.g. 8, 12, 18, 24, 36, etc. way or module. Each DB and the components used in it must fulfill strict requirements that focus on making them safe to use over a long period of time.
The main purpose of a distribution board is to safeguard your home. However, distribution boards, these days, must be more than just utilitarian. Many require that it must be easy to install and even blend seamlessly with the décor. As is the case with most of our appliances and fittings, DB is also expected to follow the style of the house or building. It is also important that a distribution board be safe to connect to the electrical system and easy to maintain over the years.