RLF Gate Light Empty Fitting for LED Lamp RG106
Domestic LED Fittings
RLF's range of durable and strong domestic LED fittings makes the lives of people easier and better. The wonderful inventions in the field of science never fail to impress mankind. The innovatory range strives to achieve a more sustainable solution to your problems. It helps bring convenience and longevity to your doorstep. 
This RLF LED panel light product of 12 W, warm white in color, the flush type is the safest product for use. It is best suited for domestic use. We see LED lights being used in almost every household and office. It makes the decor look more visually appealing and sets an aesthetic ambiance in the room which is what many people look for while making purchases for electrical products. 
What is a LED?
LED which is short for Light-emitting diode, which is basically a semiconductor device that converts electrical energy into light energy. Anode passes the electricity to the cathode and provides us with a more safe and environmentally friendly solution. 
LED has many characteristics and features. It significantly minimizes the carbon footprint and is one of the top reasons why one should prefer LED over other alternatives. They also have a longer life span when compared to conventional tube lights. One LED light works about 25 incandescent lights for over a lifetime and is worth spending your money on. Their property of less energy consumption with more efficiency makes them more eminent and in demand by customers and it's users. It is free from all the toxicity of hazardous chemicals and does not emit any UV rays and is an up to date solution with a touch of modernity and elegance which gives it an edge over others and makes it superior. The most important thing is that LEDs are reliable, pliable, and affordable. One would see the difference in the amount of savings made after regular consumption of LEDs and adaption to them over traditional ordinary tube lights. By using LEDs you also contribute to the environment as they save up on materials and are recyclable and eco-friendly in nature.
LEDs are brighter and have beautiful color ranges. They have easy maintenance with hassle-free repairing and are sure to surpass your expectations.
What are Commercial LED Light Fittings?
Commercial lighting is used to describe lighting used in commercial environments to illuminate spaces. A light-emitting diode (LED) has come a long way from what it used to be years ago to be a better replacement for incandescent light bulbs, metal halides, and typically, traditional commercial lights.
Commercial LED lighting offers a broad range of indoor/outdoor applications because of its energy-saving capabilities and the possibility of significantly reducing utility costs.
They also come with a promise of longer service life, higher maintenance, and better durability compared to other LED desk lights.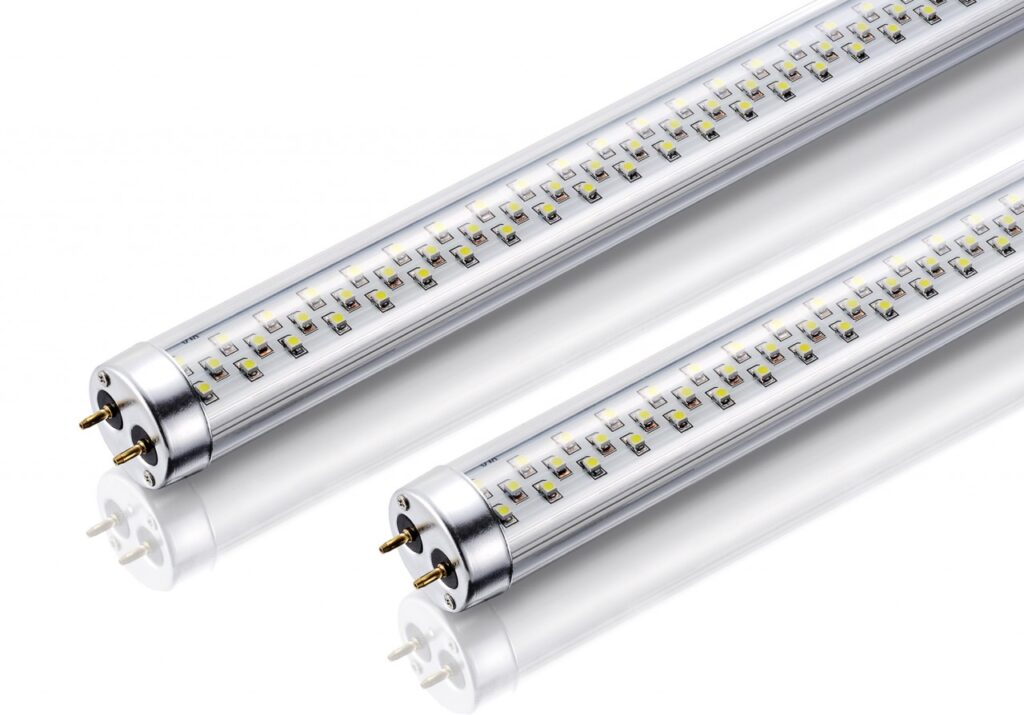 Types
1.Recessed Troffer Light
Recessed LED troffers are installed in an aperture in the ceiling to allow the light to glow directly. These lamps replace CFL tubing and, unlike CFL tubing, their housing is usually hidden inside the ceiling. The recessed troffer lamp is one of the best options you'll find as a result of its low heat emissions.
Task Lights
As the name suggests, they allow workers to do a specific job. Thus, they are adapted for use in workspaces to shed light on the environment. Another great thing about these lamps is that they can be set up easily. The best replace high-pressure sodium (HPS), high-intensity discharge (HID), incandescence, CFL, and metal halide (MH), fixtures.
Track Lighting
Alternatively, a track can be used for mounting adjustable luminaires. This track is supplied with electric wiring that eliminates the need to wire directly from individual devices. Lane lighting is most often installed on walls or ceilings in workspaces or galleries due to the benefit of allowing adjustments as required.
Outdoor Commercial Lights
LEDs are used indoors and outdoors and, in the case of the latter, it is for security purposes or to highlight some areas of the company. Some examples of commercial outdoor lighting are LED shoebox lamps, LED wall sets, and floodlights.
LED Warehouse Lighting
Specially designed to meet the needs of warehouses in terms of light and glare prevention, this type of LED provides more than enough light for work in storage.
Lay-in Fixtures
Installation luminaires do well in place of recessed fluorescent luminaires. They have more efficient devices and are installed with the ceiling brackets or brackets.
Desk Lamps
There are also LED office lamps that supply even more light and closer. This helps to prevent eye strain and backaches from having to press the overwork in order to choose the smallest details.